| | | |
| --- | --- | --- |
| | | |
| | | |
| | | |
Greetings, Well, it's finally over -- the election season, that is !! I want you all to know that the Nevada Law Enforcement Coalition, of which NAPSO is one of the founders and a leader, endorsed a total of 52 candidates who appeared on the general election ballot this past Tuesday.  Of those 52 candidates (Democrats and Republicans), 46 of them won their races. Read More...
CWA Member Honored for Bravery in Waffle House Shooting James Shaw, Jr., with CWA Local 3808 President Deborah Sisco after the ceremony honoring Shaw at the Tennessee legislature. James Shaw, Jr., a member of CWA Local 3808, heroically stepped in to stop a gunman during a shooting at a Waffle House in Antioch, Tenn. on Sunday. Read More...
On August 8, 2017, NAPSO member Sgt. Kirk Moore of the Henderson Police Department was named to the National Civil Rights & Equity Committee of the Communications Workers of America (CWA).  CWA, which held its bi-annual convention in Pittsburgh, Pennsylvania on August 7-9, 2017, is NAPSO'S parent international Union. We congratulate Sgt. Read More...
NAPSO is proud to announce that its Las Vegas backup law firm of Morris Polich & Purdy has merged with the national powerhouse firm of Clark Hill.  Senior partner Nick Wieczorek will continue to be the managing partner of the firm and his staff will continue to handle selected civil and administrative cases involving NAPSO'S members and Associations. Read More...
An evening of country music fun and celebration turned into the nation's deadliest mass shooting on Sunday night, October 1, 2017 in Las Vegas, Nevada.
At least 58 people were killed with another 500+ injured when a gunman opened fire using one or more automatic weapons from his 32nd floor hotel room at the Mandalay Bay Resort on the famed Las Vegas Strip. His targets were thousands of attendees at an adjacent open-air event center below him.
Las Vegas and the entire State of Nevada is protected by the finest law enforcement professionals in the world. Their heroism is tested each and every day as they leave their families and do their jobs to protect and serve their communities. In the midst of that slaughter, last night was a testament to their training, their experience and their courage as officers deployed rapidly to locate and neutralize the shooter to prevent even more carnage that would surely have occured.
We will leave the arduous task of investigating the what's, why's and how's of this tragedy to the men and women of public safety who do it best. Our only reason for this short narration is to offer our prayers and condolences for the dead and injured, and to once again recognize the dedication that is in the hearts and souls of every first responding police officer, firefighter and paramedic, as well as the doctors, nurses, hospital workers and the hundreds of civilian heroes who make us proud to be Las Vegans, Nevadans and Americans.
| | | |
| --- | --- | --- |
| | Blog Updates | |
| | | |
| | | |
NAPSO Representation Plan
NAPSO's Representation -- the Best in the Business !!
The Nevada Association of Public Safety Officers (NAPSO) is the largest affiliation of AFL-CIO public safety Associations in Nevada. NAPSO's background and experience means that we are able to provide statewide representation that law enforcement professionals deserve in the following areas (for more details, click "Legal Defense Plan" above):
Disciplinary Representation - NAPSO's Executive Director, its staff and its plan counsel vigorously defend member peace officers and protect their rights in disciplinary proceedings throughout Nevada. NAPSO representatives appear with member officers at every level of interview and hearing. Our track record in this area is the best in Nevada. NAPSO takes seriously the need to protect our members and their families when their jobs and their careers are threatened.
Contract Negotiations - NAPSO's representatives have a track record of successful collective bargaining negotiations throughout the state, and they work tirelessly to ensure that our members are the leaders in compensation and benefits in the law enforcement industry.
Litigation - When the need arises, NAPSO and its plan counsel may aggressively represent their member officers and associations in litigation matters involving the defense of on-duty criminal charges and civil lawsuits, FLSA, Injunctions to enforce MOU's and the Peace Officer Bill of Rights, and other actions deemed necessary to protect the best interests of our members.
Political Action - NAPSO and its affiliates, the National Coalition of Public Safety Officers (NCPSO) and the Communications Workers of America (CWA), AFL-CIO Local 9110, are the most powerful voice in Nevada law enforcement. From Carson City to Washington, D.C., law enforcement concerns are being heard by legislators and NAPSO is leading those efforts.
Organizing - Through its association with NCPSO and CWA Local 9110, AFL-CIO, NAPSO may elect to assist new law enforcement groups around the state to organize themselves, obtain recognition by their employers and commence the process of representation, bargaining and obtaining a political voice in their own affairs.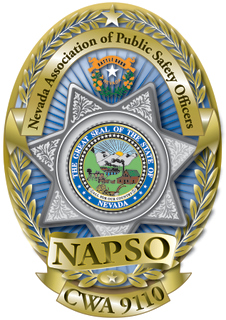 NAPSO's
Vision
To implement and preserve a sound organizational philosophy that will be used to secure fair and equitable compensation, benefits, policies and procedures for the protection of our present and future members, and to promote labor, benevolent, educational, charitable, civic, patriotic, and fraternal activities among our membership.
To preserve and strengthen camaraderie among our law enforcement/peace officer members, including police officers, deputies, corrections officers, state and federal law enforcement officers, special district police, probation officers and parole officers, and to improve wages and hours of work, increase job security, improve working and living conditions, and defend the rights and liberties of our members.
N

ever discriminate among members
S

u
pport all interests of law enforcement
O

bey all By-Laws and the CWA Constitution