| | | |
| --- | --- | --- |
| | | |
| | | |
| | | |
This is a letter sent to local, state and national media on behalf of NAPSO following the tradegies in Dallas:
My name is Richard McCann and I am the Executive Director of the Nevada Association of Public Safety Officers (NAPSO), affiliated with CWA as Local 9110, AFL-CIO. We represent more than 1,500 law enforcement officers throughout the state of Nevada in 21 separate public safety labor Unions under our umbrella. We hold the seat for public safety on the Nevada State AFL-CIO Executive Board and a Vice President's position on the Southern Nevada Central Labor Council.
We have witnessed these most recent tragedies in Dallas and our hearts are broken. On behalf of NAPSO/CWA 9110, we offer our thoughts and prayers to those officers, their families and all law enforcement personnel across the nation. These folks are true heroes.
But our pain does not stop with our brothers and sisters of Dallas law enforcement. We grieve for the families of those men who recently died following interactions with law enforcement in Louisiana and Minnesota. We pass no judgment on the officers in those two shootings, for that is the province of trained investigative teams and the judicial system. However, we do demand that those officers' rights be protected and that due process is followed like any other citizen.
In the end, we must all put aside our differences to seek the truth behind these senseless killings and carnage and to learn how to stop it from continuing. We must be prepared to acknowledge what is real – that we are killing ourselves and each other for no other reason that the color of our skin or the uniforms we wear. It must stop. It must stop now. This is not a political issue. It is a public safety issue. It is an issue that threatens our society at its core. We must do whatever is necessary to bring to an end the public divide between law enforcement and our civilian communities. These acts are no less threatening to our way of life than the barbaric acts of terrorism that we watch take place across the planet each day. Partisanship and narrow-mindedness in Congress seems to be an accepted (albeit unworkable) method of communicating and resolving conflicts. But partisanship, bias, prejudice and bigotry between the races, the religions and those who are officers of the law is unacceptable.
While law enforcement must be prepared to acknowledge and accept accountability for its own misconduct, so too must the social movements like Black Lives Matter and others that have been born from these tragedies. We call upon the police departments to police their own and denounce bad behavior when it is proven to exist. We also call upon these social movements to step forward and publically denounce the actions of people who would murder law enforcement officers who were doing nothing more than protecting our homes, our children and our communities. These brave officers in Dallas were gunned down by a coward who was motivated by the same racial hatred for which police officers themselves are being blamed across this nation.
It's time for law enforcement Unions and their members to be leaders in this challenge. It's time for law enforcement and civilians alike to step up to the plate, accept their own responsibility and fix this problem before it destroys us as a nation and as a world.
NAPSO is reaching out to law enforcement Unions across the country to come together and unite with a single message -- a message that denounces all of this needless violence and a message that we can and will achieve a successful result in forging more harmonious relationships within our communities.
Thank you for your time.
On January 1, 2016, the Storey County Sheriffs' Office Employees' Association joined NAPSO, making it the 21st organization to be added to NAPSO'S growing list of represented groups in Nevada. Read More...
On March 1, 2015, the Winnemucca Police Officer's Association proudly joined the other 18 full Associations and 2 individual groups affiliated with NAPSO. Read More...
A State Parole & Probation Officer and member of the Nevada State Law Enforcement Officers Association (also a NAPSO member) was terminated for allegations of falsifying time sheets, neglect of duty, insubordination and untruthfulness. Read More...
| | | |
| --- | --- | --- |
| | Blog Updates | |
| | | |
| | | |
NAPSO Representation Plan
NAPSO's Representation -- the Best in the Business !!
The Nevada Association of Public Safety Officers (NAPSO) is the largest affiliation of AFL-CIO public safety Associations in Nevada. NAPSO's background and experience means that we are able to provide statewide representation that law enforcement professionals deserve in the following areas (for more details, click "Legal Defense Plan" above):
Disciplinary Representation - NAPSO's Executive Director, its staff and its plan counsel vigorously defend member peace officers and protect their rights in disciplinary proceedings throughout Nevada. NAPSO representatives appear with member officers at every level of interview and hearing. Our track record in this area is the best in Nevada. NAPSO takes seriously the need to protect our members and their families when their jobs and their careers are threatened.
Contract Negotiations - NAPSO's representatives have a track record of successful collective bargaining negotiations throughout the state, and they work tirelessly to ensure that our members are the leaders in compensation and benefits in the law enforcement industry.
Litigation - When the need arises, NAPSO and its plan counsel may aggressively represent their member officers and associations in litigation matters involving the defense of on-duty criminal charges and civil lawsuits, FLSA, Injunctions to enforce MOU's and the Peace Officer Bill of Rights, and other actions deemed necessary to protect the best interests of our members.
Political Action - NAPSO and its affiliates, the National Coalition of Public Safety Officers (NCPSO) and the Communications Workers of America (CWA), AFL-CIO Local 9110, are the most powerful voice in Nevada law enforcement. From Carson City to Washington, D.C., law enforcement concerns are being heard by legislators and NAPSO is leading those efforts.
Organizing - Through its association with NCPSO and CWA Local 9110, AFL-CIO, NAPSO may elect to assist new law enforcement groups around the state to organize themselves, obtain recognition by their employers and commence the process of representation, bargaining and obtaining a political voice in their own affairs.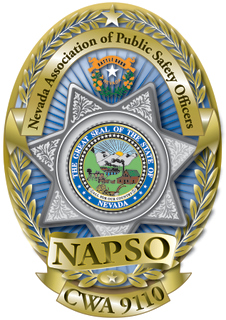 NAPSO's
Vision
To implement and preserve a sound organizational philosophy that will be used to secure fair and equitable compensation, benefits, policies and procedures for the protection of our present and future members, and to promote labor, benevolent, educational, charitable, civic, patriotic, and fraternal activities among our membership.
To preserve and strengthen camaraderie among our law enforcement/peace officer members, including police officers, deputies, corrections officers, state and federal law enforcement officers, special district police, probation officers and parole officers, and to improve wages and hours of work, increase job security, improve working and living conditions, and defend the rights and liberties of our members.
N

ever discriminate among members
S

u
pport all interests of law enforcement
O

bey all By-Laws and the CWA Constitution